Physician Leaders
agilon health is the long-term solution for leading local physician groups that want to focus on outcomes: better care and experience for patients, higher physician satisfaction, growth of their practices and financial security through a total cost of care model.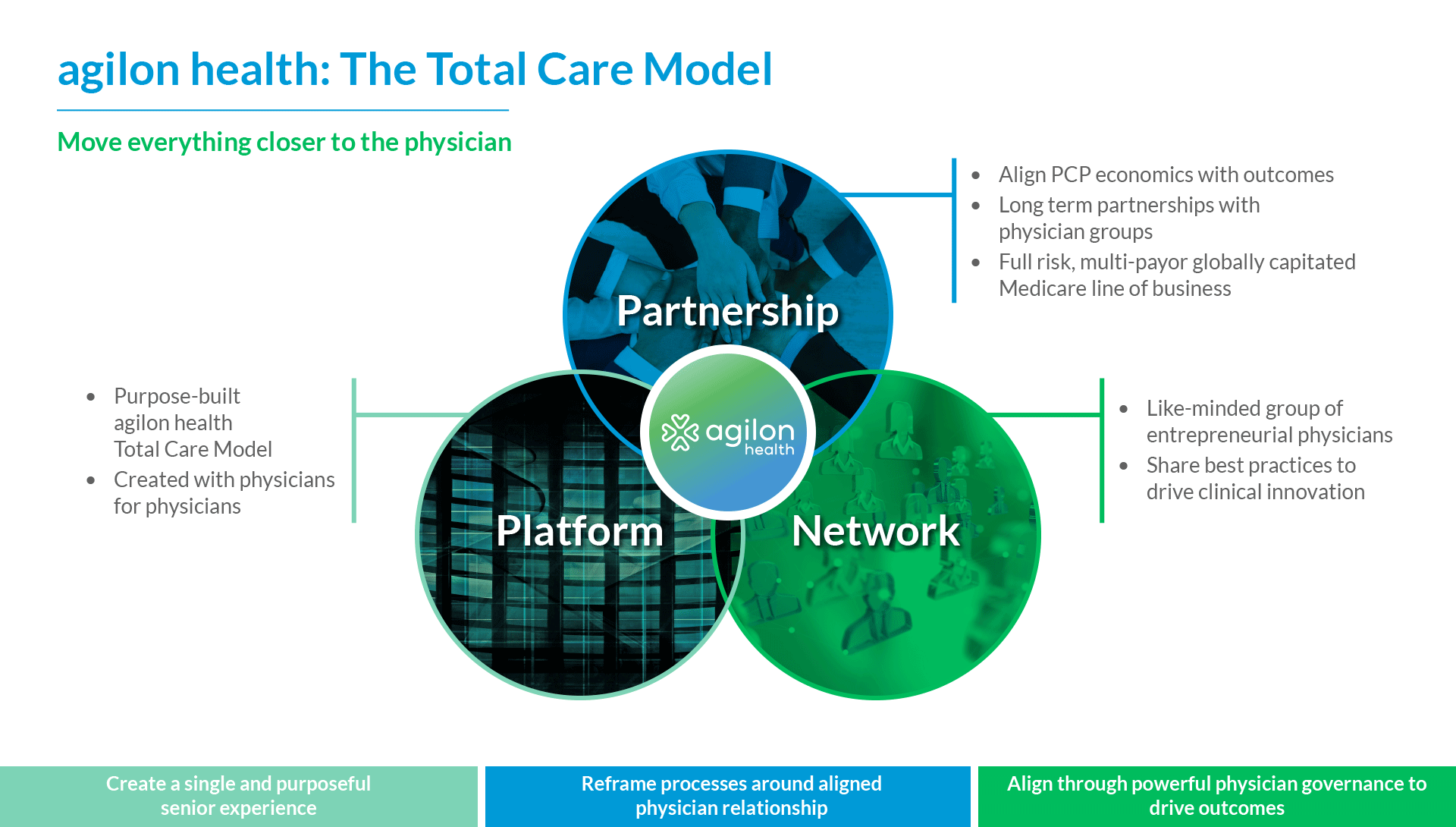 The Platform
Built for physicians by physicians, the agilon platform is delivered through our local partnership to empower our physician partners to rapidly flip to a global risk model for Medicare.
Physicians on the platform benefit from:
Payor Engagement: In each community, agilon connects multiple payors, patients and physicians into a single platform to create a single experience for patients and physicians.
Data Integration: The platform integrates payor data, EMR data, labs, pharmacies and other third-party outlets. It also extracts financial, clinical and social determinants data. All of this is presented for easy consumption by physicians to improve the quality of care.
Clinical Programs: agilon health and the partner physicians develop actionable playbooks based on patient data and local care delivery successes, and that growing insight is shared on the platform so that others can stand up clinical programs based on lessons learned.
Quality: The platform provides ways to expand access, reduce cost and improve patient relationships. More than 90 percent of providers surveyed believe programs delivered through the agilon network enabled physician partners to provide better care.
Education and Communication: agilon health enables physician partners to be armed with accurate information about Medicare Advantage to enable physicians to communicate and educate with their patient who are approaching Medicare eligibility or who are already eligible and who are interested in a Medicare Advantage plan and connect them with the appropriate resources if they choose to enroll in Medicare Advantage.
Performance Analytics: The platform offers peer-to-peer performance comparisons on care at the physician, population and network level. The quality and cost dashboards are constantly updated so that physicians can share information on best practices.
Financial Management: The platform helps physician groups build a common approach agnostic of payor and begin to take greater control of the payment aspects of managing the premium dollar.
National Policy: The platform is a source of information and conversation on issues of importance to primary-care physicians, from telehealth to contracting to Medicare Advantage payments. agilon health helps unite the voices of community-based physician leaders to advance policy in Washington, D.C.
Direct Contracting Model: Enables our physician partners to expand our Total Care Model to patients enrolled in traditional Medicare through the CMS Innovation Center Direct Contracting Model.
Network Effect
agilon health physician partners are driven and entrepreneurial. They have chosen to remain independent. Yet they also value collaboration. As the agilon health network grows, so do the voices of the physicians who are part of it. They are able to share ideas with peers across the country, many of whom are leaders in their communities. The physicians in the agilon health network share a desire for healthcare that is rooted in outcomes. And there is indeed a network effort of pooling that strength and accelerating change, market by market.
News From Our Physician Partners